Shopping Cart
Your Cart is Empty
There was an error with PayPal
Click here to try again
Thank you for your business!
You should be receiving an order confirmation from Paypal shortly.
Exit Shopping Cart
The Venture 17 Division Of Education
THE CONSERVATORY OF MEDICAL ARTS AND SCIENCES

THE SEARCHLIGHT MESSENGER
| | |
| --- | --- |
| Posted on April 1, 2012 at 9:55 PM | |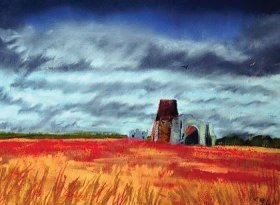 Kieron Williamson, now seven years old, stunned the art world, last year with his beautiful watercolors. At the time, I wrote a lengthy blog post regarding this very talented young artist.
 
Last year's newest art world sensation isn't a famous celebrity turned painter or an up and coming art fashionable man about town. Rather, the name rolling off the tongues of Britain's art connoisseurs is Kieron Williamson, a very young boy with a knack for painting spectacular watercolors.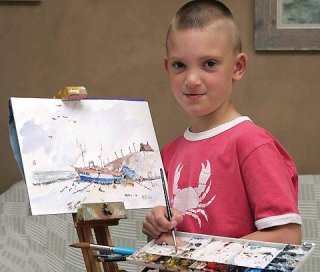 Kieron, whose first show opened at Town Gallery in England one year ago, was lauded for having talent, well beyond his years. The young man's paintings of harbor scenes, animals, landmarks, and rural vistas are rendered in muted pastel colors and shadow, baring a visionary depth until now, only found in the works of adults, moreover, the works of artists who are trying to draw you in emotionally. As a result, some media outlets are calling Kieron a "prodigy", placing him among a select group of children whose talents both awe the public and raise its suspicions. Kieron's paintings are not your usual kindergarten art projects. "I like painting because it makes me think of places I can't see," said the young artist to the press last year, and whose father is an art dealer.
Art didn't interest Kieron very much before he visited the coastal towns of Devon and Cornwall with his family. The boats and local landscape inspired the young boy to ask for paper and he began drawing. His mom describes those early works as typical of his age group. However, when family friend and artist, Carol Pennington, saw Kieron's work, she recognized his potential immediately and gave him lessons. Ms. Pennington owns the gallery showcasing Kieron's paintings. The young boy has already sent originals to Elizabeth II, Queen of England, and Charles, Prince of Whales. Interestingly and not surprisingly, Kieron's paintings are garnishing six figures when sold, and that's in Pounds Sterling, not dollars. Wow! 
It seems child prodigies always become media sensations once discovered and sometimes the attention turns ugly. In 2004, here in the United States, we became taken with a four year old girl named Marla Olmstead, whose works were compared to those of Jackson Pollack. At the time, Marla's paintings were selling for as much as $24,000 and she was featured in a lengthy article in The New York Times. The overwhelming praise for Marla led 60 Minutes to video tape her creative process and show the footage to a psychologist specializing in gifted children. The psychologist, and other experts, were not impressed, casting a shadow on the authenticity of the prodigy from New York. Marla continues to paint today despite this ordeal. However the stigma to her family lingers. Hopefully at her young age, the shadow may never be truly felt.
Kieron will experience his third "gallery opening" this year. As the highly anticipated paintings make their debut, the world might do Kieron a service by holding back the "prodigy" label until the boy can deal with the accompanying stress this can stir in a child.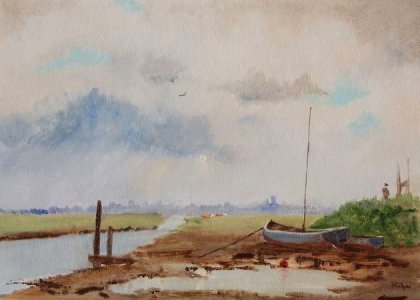 Having won art contests myself since I was four years old, I understand some of what this little man is going through, however, I can't imagine what he is experiencing with world focus and all that cash. Good parents and an understanding extended family will be critical here. Personally, I want him to succeed enormously. This means allowing him to be a kid when he needs to be. You guessed it. Everyday, and most of the time. 
Here's to his success and continued good fortune as an artist, and as a young man.
Dr. Counce
Categories: Arts and Photography
/