Shopping Cart
Your Cart is Empty
There was an error with PayPal
Click here to try again
Thank you for your business!
You should be receiving an order confirmation from Paypal shortly.
Exit Shopping Cart
The Venture 17 Division Of Education
THE CONSERVATORY OF MEDICAL ARTS AND SCIENCES

THE SEARCHLIGHT MESSENGER
| | |
| --- | --- |
| Posted on July 13, 2014 at 10:22 PM | |
Historically, many congenital cardiac defects resulted in death in infancy or early childhood, with few individuals living into young adulthood. Through advances in modern cardiovascular care, there are now almost 1 million adults with congenital heart disease (CHD) living in the United States and, interestingly, more adults than children. As a consequence of these operative repairs and the added longevity, arrhythmias are increasingly common.

Mayo Clinic's campus in Rochester, Minnesota, is home to one of the largest adult CHD centers in the world and manages all types of CHD using a multidisciplinary team approach of cardiologists, cardiac surgeons and electrophysiologists. Many key insights into these complex disorders have developed out of research from this group, and it is seen as a leader in disease-specific syndromes such as Ebstein's anomaly and tetralogy of Fallot.
"Arrhythmias in this group are a major cause of hospital admission and morbidity in patients with CHD and also are the most common reason for late mortality," says
Christopher J. McLeod, M.B., Ch.B., Ph.D.
, congenital electrophysiologist at Mayo Clinic in Rochester. "Moreover, some of the rhythm abnormalities such as the atrial arrhythmias, which are often benign in the general population, are poorly tolerated and are associated with a substantial increase in mortality in this group."
Background

Some element of CHD is present in about 1 percent of live births. Of these, about half have milder forms of disease, such as atrial septal defects (ASDs) and ventricular septal defects (VSDs), while the remainder have more complex physiology, the most common of these being tetralogy of Fallot.

Symptomatic bradyarrhythmias can cause considerable morbidity and mortality. Pacemaker implantation is required in about 3 to 4 percent of patients with Ebstein's anomaly or ASD closure, but in more than 80 percent of patients who have complete transposition of the great arteries who had a Mustard or Senning operation or patients with congenitally corrected transposition of the great arteries.

Atrial tachyarrhythmias afflict at least a quarter of all individuals with CHD during their lifetimes. About half of patients with ASD repair after age 25 and nearly one-third of patients with tetralogy of Fallot develop atrial tachyarrhythmias. Ventricular arrhythmia and sudden cardiac death also are inextricably interwoven in this group of patients, as they occur in about a quarter of patients. This incidence is 25 to 100 times higher than in an age-matched control population, and risk stratification for implantable cardioverter-defibrillator (ICD) implantation for primary prevention remains a major hurdle.

The mechanism behind these arrhythmias can be inherent to the congenital anomaly, such as abnormalities in atrioventricular (AV) nodal function in the AV septal defects. However, bradycardias are most commonly seen as a consequence of the operative repair, either in the early postoperative period or later due to fibrosis developing in the context of prior operative scars. Tachycardias most commonly have a reentrant mechanism and typically propagate in areas affected by the presence of patches, suture lines or late fibrosis.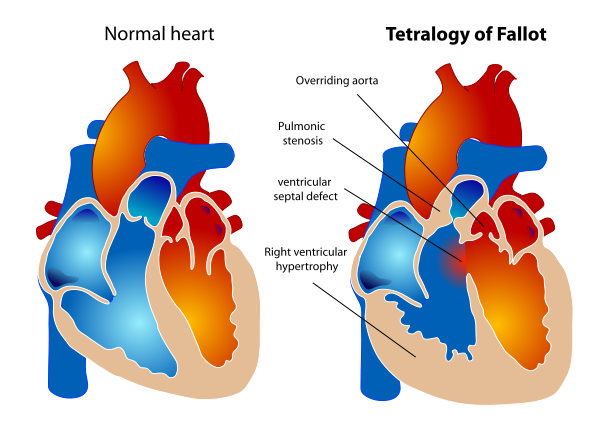 Tetralogy of Fallot
Ventricular tachycardia is the most common cause of late mortality in this group of patients, and ICD implantation plays a firm role in preventing sudden death. As tetralogy of Fallot is the most common complex congenital heart syndrome, ICD therapy, electrophysiology studies, and surgical and percutaneous ablative intervention have been well-studied in this group of individuals.

Atrial tachyarrhythmias are also a frequent cause of morbidity and are seen in around a third of patients; this is typically an intra-atrial reentrant tachycardia that is amenable to ablation and less so to medications. Anti-arrhythmic medications are useful adjuncts in addressing these rhythm abnormalities in symptomatic patients, but they are limited by long-term toxicity and poor efficacy.

Ebstein's anomaly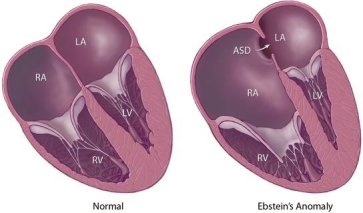 Ebstein's anomaly encompasses a wide spectrum of maldevelopment of the tricuspid valve, massive right atrial dilation and underdeveloped right ventricular function. Accessory pathways are present in at least one-fifth of patients with Ebstein's anomaly, almost always right-sided (or concordant with the side of Ebstein valve in case of transposition) and not infrequently multiple. Catheter ablation is highly effective in eliminating these accessory pathways and should be considered as first-line therapy.
Atrial arrhythmias are especially common in this group and, importantly, can conduct rapidly to the ventricle via the accessory pathway, resulting in hemodynamic deterioration, syncope and even death. In the setting of atrioplasty, maze procedures and prosthetic valves, these atrial rhythm abnormalities can be complex and frequently require ablation or anti-arrhythmic drug therapy or both.

Atrial septal defects

ASD is one of the most common congenital cardiac anomalies and is associated with a high incidence of atrial arrhythmias that increase in frequency as the patient ages. The later in life the ASD is repaired, the more likely atrial arrhythmias are to develop. Closure does not mitigate the development of arrhythmias, and with the advent of percutaneous ASD closure devices, can in fact complicate management. In addition, significant thromboembolic complications have been observed in patients who had ASD closure performed in the third decade or older, affecting up to a quarter of these patients.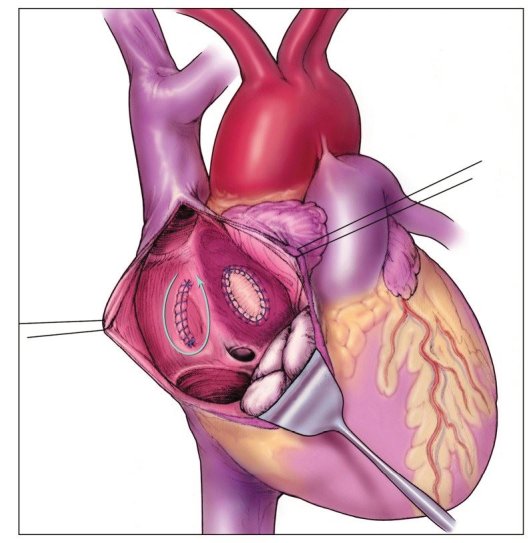 Therefore, anticoagulation should be mandatory if atrial arrhythmias develop and should be actively sought using ambulatory monitoring. Intra-atrial reentrant tachycardia circuits around a patch or suture line frequently underlie the abnormality, and ablative therapy is often first-line treatment.
Prior maze procedure

Modified Cox-maze operations are a common, safe and highly effective surgical method of restoring sinus rhythm in patients with CHD and atrial fibrillation or flutter. These interventions are most commonly performed at the time of CHD operations and can be unilateral or bilateral depending on the underlying congenital lesion. Unfortunately, patients with prior maze procedures can develop breakthrough atrial tachyarrhythmias at points of incomplete atrial block. This development is substantially less common with traditional cut-and-sew maze procedures than with open surgical radiofrequency or cryotherapy approaches.

The maze procedure is not free of complications; the extensive transmural lesions not only potentially interfere with sinus and intra-atrial conduction but also likely disrupt atrial innervation. Sinus node dysfunction, atrial bradyarrhythmias and tachyarrhythmias, and chronotropic incompetence are not uncommon sequelae, and pacemaker implantation is frequently necessary.

New postmaze atrial tachyarrhythmias can develop around and through the incomplete maze lesions, and ablation of intra-atrial reentrant tachycardia in this setting is frequently undertaken. Anti-arrhythmic drug therapy is also relied on in this context, and atrial anti-tachycardia pacemakers can be of added utility in this particular type of atrial arrhythmia.

Management

It is critical for clinicians to recognize that patients with congenital defects (and repairs) have not been included in any of the large atrial fibrillation trials such as the Atrial Fibrillation Follow-Up Investigation of Rhythm Management (AFFIRM) and How to Treat Chronic Atrial Fibrillation (HOT CAFE) rate-versus-rhythm studies, any of the anticoagulation trials evaluating risk stratification schemes such as CHADS2, or efficacy trials involving novel anticoagulation agents. Each patient therefore needs to be carefully evaluated and treated on an individual basis at a center specialized in adult CHD.

"Importantly, for any atrial tachyarrhythmia that is associated with hemodynamic instability, synchronized direct current cardioversion should be utilized without delay," says Dr. McLeod.

Anti-arrhythmic drugs remain a cornerstone in the management of atrial arrhythmias in CHD patients; however, most anti-arrhythmic drugs should not be routinely used in this patient group because of the risks of proarrhythmia. Important differences in management are highlighted as follows:

Ablation

Radiofrequency catheter ablation is now utilized early in the course of many adult patients with atrial tachyarrhythmias, particularly for atrial arrhythmias. Radiofrequency catheter ablation in these patients can be challenging and should be referred to experienced centers. Although early success rates are excellent even in the most complex defects, long-term recurrence rates remain suboptimal, especially when multiple circuits coexist and atrial scars are abundant. The reentrant circuit can often be modified sufficiently to reduce symptomatic recurrence and improve anti-arrhythmic drug therapy or pacing efficacy.

Device therapy

Similar to acquired heart disease, symptomatic bradyarrhythmias require permanent pacing, but knowledge of intracardiac and vena caval anatomy is critical. To avoid thromboembolic complications, epicardial pacemaker placement is mandatory if a residual intracardiac shunt exists. Coronary sinus lead placement can also be utilized in selective cases where the tricuspid valve cannot be crossed, and atrial anti-tachycardia devices are typically reserved for patients who also present with bradycardia. ICD implantation is frequently appropriate, and the newer subcutaneous ICD systems provide a useful alternative in selected groups.

Anticoagulation therapy

Anticoagulation therapy should be considered in CHD patients as soon as an atrial rhythm disturbance is identified. Patients with Fontan circulations or reduced ventricular function have low flow states in the heart and are at high risk of thrombus formation within the atria. Patients with repaired ASD also appear to be at considerable risk of thromboembolic complications in the setting of atrial arrhythmias, accounting for about one-fifth of late deaths in one series.

"The use of conventional thromboembolic risk-assessment scores, such as CHADS2, has not been evaluated in these patient groups and likely is inappropriate," says Dr. McLeod. The newer oral anticoagulant agents such as dabigatran, rivaroxaban, and apixaban also have not been specifically studied in CHD patients.

Summary

Atrial and ventricular arrhythmias are a major cause of late morbidity and mortality in this group of patients and should be managed at a specialized center. The Center for Congenital Heart Disease and the Heart Rhythm Clinic at Mayo Clinic in Rochester continue to be at the forefront in the multidisciplinary management of these complex patients who typically require multimodality strategies involving anti-arrhythmic drugs, detailed electrophysiological studies, radiofrequency catheter ablation and device therapy.


Categories: Clinical Update
/